Studio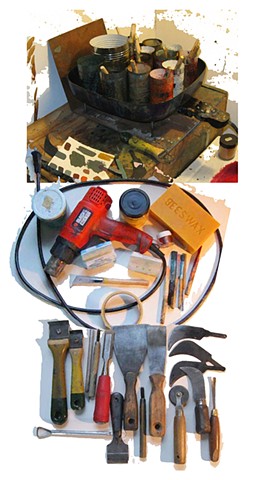 It's true, my paintings are about encaustic paint, they reflect my fascination with its virtuosity, and the beauty and richness to be found in its effects. The process itself is what has kept me loyal to this medium for many years.
With encaustic, 'hot', or melted, means 'wet'. Beeswax and pigment are combined in a small can (tomato paste, actually), melted down and dipped into. I use natural-bristle brushes whose long handles have been sawn off, to allow them to stand ready in the paint without tipping the can over.
Paint stays 'wet' for about ten seconds, after which I must dip again, or may begin to cut and sculpt, using a variety of tools.
The heat gun allows me to re-melt the paint right on the panel, making for textural enhancements like troweling, stippling or puddling.



Most of my tools come, not from an art-supply shop, but from the hardware store!